As a General Contractor
I need an Irrigation Contractor
I can rely on
Thanks Can Do Services!
Lawn Sprinkler Repair Service or Maintenance and New Irrigation System Installation
How much does it cost to repair your Sprinkler Pump or Lawn Sprinkler System?
Don't replace your sprinkler pump if it's not necessary.  Let us quickly and accurately repair your sprinkler system or pump for you.
Many times our Sprinkler Repair Service Call including Parts and Labor is less than $200.00 and restores the function of your Irrigation System for years to come.
Lawn Sprinkler Pumps with a Better Warranty
Same Day Delivery

option of Pro Installation with an Extra Year of Warranty
Are you in need of Sprinkler System Repair Services for your Vero Beach, Sebastian or Okeechobee home?
We're here and look forward to being in your service.
What to look for when hiring a Lawn Sprinkler Repair Service Contractor
Sprinkler System Repair troubleshooting should be completed in a logical step by step process.  Some steps like verifying power is being provided to the Irrigation Pump are simple. However, in cases where the sprinkler system valves can't be located or the problem is not clear it can be much more cost effective to call for help.
It is unfortunate to be called to a home or business after a Sprinkler Pump was replaced without proper troubleshooting and the owner discovered it didn't correct the initial problem of the Irrigation System.
In cases where the Irrigation Well is part or the root of the problem our team has the well drilling and well repair experience necessary to resolve the issue.
Your Sprinkler Repair Service Contractor should be able to show you how your system works as well as what part(s) were defective and how that determination was made.
One of our unique attributes is that we have repair and installation experience in all areas of your water systems; Wells, Well Pumps, Sprinkler Systems, Rust Inhibitor Systems, Water Softeners and Filtration.  We also offer Smart Irrigation technology solutions to help you conserve water and manage your irrigation from any location.
What You can Expect from our Water System Pro's
Team leadership is reachable and at your service. Neat, highly skilled technicians ensure you have a great experience.
Out of water calls are always a  top priority.   Call us and discover how passionate we are about being in your service.
Enjoy Piece of Mind with an extra 12 months of warranty on all Major Parts we install.
Signs of a Bad Sprinkler Pump plus Troubleshooting
What to check if Your Sprinkler Pump is Not functioning
First, check the circuit Breaker providing power to the irrigation pump. If the breaker is tripped reset it then check the pump again. If the breaker keeps tripping it could mean your pump has a short and will need to be replace. You will want to call a Pro for help to verify this is the cause.
Also see: How do I get Water if my Sprinkler Pump or Irrigation System isn't working in our FAQ's area below.
Your Lawn Sprinkler Pump Works however No Water is coming out
Don't keep your Sprinkler Pump running without water more than a couple minutes or it could overheat and damage the pump. If when you touch the pump housing it is hot turn it off and let it cool down. When cooled off try priming the pump by adding water for additional testing.
Another common issue is a vacuum leak. If your irrigation well or pipe from the well to the sprinkler pump has any kind of leak such will keep the sprinkler system from getting needed water from the well.
In some cases, your sprinkler system pump may simply be worn out from normal wear.
Lastly, when your irrigation pump runs without providing water this could be a sign your well has a problem. In such cases you'll need a well pump repair contractor to provide a well repair.
Best Types of Sprinkler Pumps – with Comparison Chart
Sprinkler Pumps available at
The Home Depot/Lowes
Over all Rating: Low Quality
Pros: The Home Depot and Lowes sell Sprinkler Pumps that are made of plastic and cheap.
Cons: These Pumps have significantly lower flow rates and water pressure limiting the coverage of your Irrigation System.  We have seen these pumps fail in some cases just a few months after they were installed.  Then when we received the call to repair the homeowner discovered it's not repairable and the Warranty process is a ship it off and wait process and thus worthless.   This is why professional technicians consider these pumps junk.
Quality Centrifugal Sprinkler Pump Brands: Sta-Rite and Goulds
Overall Rating: High Quality
Pros: Goulds Sprinkler Pumps and Sta-Rite Irrigation Pumps are  chosen by more than 80% of homeowners due to their higher performance, longevity, and ability to be repaired.   It's our experience that Goulds Sprinkler Pumps offer the highest flow rate and pressure for the best value per dollar spent.
Cons: High Quality Sprinkler Pumps cost a bit more initially.
Sprinkler/Irrigation Pump Comparison Chart

 
Brand

HP

Suction Lift: 10ft
Flow Rt @40PSI

Suction Lift: 15ft
Flow Rt @50PSI

Max Pressure

Wayne

1.5 HP

0 GPM (Max PSI 30)

0 GPM (Max PSI 30)

30 PSI

Everbilt

1.5 HP

26 GPM

20 GPM

40 PSI

Everbilt

2 HP

36 GPM

32 GPM

50 PSI

Sta-Rite

1.5 HP

30 GPM

25 GPM

45 PSI

Sta-Rite

2 HP

42 GPM

37 GPM

55 PSI

Goulds

1.5 HP

38 GPM +46% Better

33 GPM +65% Better

45 PSI

Goulds

2 HP

60 GPM +67% Better

57 GPM +78% Better

55 PSI
Big Box Well Pump (Low Quality/Performance)
Goulds Sprinkler Pump (High Quality/Performance)
Shallow Well Jet Pump and Pressure Tank Installation Vero Beach, FL
How Much is a Sprinkler Pump for an Irrigation System?
The cost of a Sprinkler Pump will vary based upon horsepower rating, and quality of pump.
With Installation Labor and related Installation Parts a Sprinkler Pump can cost:
$1,150 – $1,250 for a quality 1.5 HP Centrifugal Sprinkler/Irrigation Pump
$1,375 – $1,475 for a quality 2 HP Centrifugal Sprinkler/Irrigation Pump
If you are installing a Sprinkler Pump as a part of a New Sprinkler System from scratch you will also have other associated expenses like a digital Sprinkler Timer, a Rain Sensor, Sprinkler Valves, Valve Boxes, Sprinkler Heads, PVC Pipe and Fittings.
Sprinkler Pumps by Goulds are the #1 most requested irrigation pump because they provide the highest flow rates, pressure and durability.  The related Sta-Rite Sprinkler Pumps are the next most popular brand.
In most cases the Sprinkler Pump model listed below will be the right match for most home lawn sprinkler system applications.
Where to BUY the BEST SPRINKLER PUMP?
Get the Best Prices on the best performing Goulds Irri-Gator Sprinkler Pumps when you mention Discount Code GIVETHANKS when you call to order.  And as a bonus locals can enjoy same day delivery and an Extra year of Warranty* when you have our pros install it.
| Sprinkler Pump Brand/Model | Regularly | Special Buy with Discount |
| --- | --- | --- |
| Sprinkler Pump Brand/Model | $880.00 | $825.00 |
SAME DAY DELIVERY (Orders before 3PM)
Live Local: We deliver Sprinkler Pumps to Okeechobee, Vero Beach, Sebastian, Felsmere, Port St Lucie(North of Indrio Road)
Get an EXTRA YEAR of WARRANTY when you add Pro Installation Labor $325.00
Sprinkler Pumps and Sprinkler System Repair or Installation Vero Beach, FL
Order Today
Sprinkler Repair Service – Vero Beach, FL
How to know What Size or HP Sprinkler Pump I Need?
In most cases a 1.5 HP Centrifugal Sprinkler Pump will meet the needs  of an average 1/4 acre to 1/2 acre home with 3 to 6 irrigation zones which needs a sprinkler pump that can produce 25 – 40 GPM @ 40 PSI.   For larger properties or properties with advanced irrigation needs you will want a pump that has a flow rate that matches the demand of the largest zone in the system.
Be aware that horsepower rating does not represent what the pumps flow rate and pressure will be.  As the Sprinkler Pump Comparison chart above indicates the lower quality pumps do not produce the same flow rate as the higher quality pumps.
Sprinkler System - Frequently Asked Questions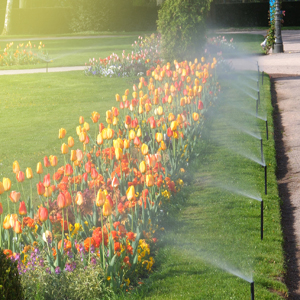 To save up to several hundred dollars per month many homeowners have a Well for their Irrigation System aka Sprinkler System.  By programing a Sprinkler System Timer the lawn can be watered on a schedule automatically.  When it's time to begin the programmed watering the Irrigation System Timer sends a low voltage signal to the Pump Start Relay which tells your Well Pump to turn on. Irrigation Systems most commonly use a Centrifugal type Well Pump. Your Irrigation Well Pump combines an Electric Motor which spins an impeller inside a pump housing which creates suction to lift water from your well and transfer that water under pressure to your irrigation indexing valve or individual zone valves.  If you have individual zone valves the Irrigation Timer using low voltage wiring sends 24VAC to one of these zone valves which opens the valve so water will flow to that group of sprinkler heads.
First turn off the power to the pump. Next, if your sprinkler pump has a priming plug on the top surface remove it to fill the pump casing with water.  If there is no priming plug you may be able to remove a pressure gauge and add water thru the opening.  Lastly you may need to add a priming T at the exit of your pump.  Then you will be able to remove the plug and add water.
If you have checked the breaker and the sprinkler pump still doesn't work correctly turn off the power until a technician arrives.
To get water for immediate irrigation when your Sprinkler Pump does not work run a water hose from your neighbors water spigot, after asking permission of course, to a water spigot in line with the irrigation system .  To connect the hose end to the spigot use a brass double female hose connector.
Before setting up a watering schedule using your sprinkler timer check with your local municipality to determine if there are any water restrictions.
Now you can program your irrigation timer for 3-4 days per week in Summer Months and 2-3 days per week in Winter Months here in Florida.
It is best to water your lawn during the pre dawn hours of the day thru early morning to limit the amount of evaporation.
We're the Sprinkler Repair and Water System Pro's You'll Love
Organizations We've Served and We'd Love to Serve You too!
Among Lawn Sprinkler Repair  and Maintenance Companies in Okeechobee, Vero Beach and Sebastian you'll find our Service to be quick, convenient and of great value.
If you're a General Contractor we've got you covered with on schedule Commercial Irrigation System Installations, Repairs and Maintenance.
Call Today for Your Free Estimate: (772) 800-6610
Experience the Hometown Service Difference
We love that our work opens the door to new friendships in our hometown community.  And great service is the best way we can make a difference in the community we live in.  We look forward to building a brighter future one important relationship at a time.  Therefore we are committed to:
  Accountability – We share our commitments in writing and stand behind our work to ensure your Sprinkler Repair, Water Softener, or Pump Installation or Repair has been completed as agreed thereby assuring your complete satisfaction.

We Value Your Time – We believe in honoring others the same way we would like to be honored with projects being completed on schedule.  Residential Customers and GC's alike appreciate the attention to good communication and clear written Installation timeline commitments.